School Uniform
Wearing the school uniform plays an important part in establishing a positive community identity and contributes to the creation of an appropriate work ethic. Acceptance of enrolment at Carine Senior High School assumes an agreement between the parent/guardian and the enrolling student that the student will dress in accordance with the school's uniform policy at all times. Every student is expected to comply with the School Uniform Policy in the same way that they are expected to comply with the rules relating to classroom behaviour, absences and so on.
The school uniform has been developed in consultation with the School Board and other members of the school community, including parents, students and school representatives.
Uniform Shop Opening Times
Perm-A-Pleat is now operating from the distribution centre at 455 Victoria Road, Malaga.
The appointment calendar has now been set up for 28/11/2023 – 16/12/2023. Click the link to reserve your spot: Book Your Appointment.
Instructions on how to make an appointment: Online Appointment Flyer.
Office closed for the Christmas break from 18/12/23 – 8/1/24.

2023 Normal operating hours for walk-ins is as follows.
| | |
| --- | --- |
| Tuesdays | 2.00pm to 6.00pm |
| Wednesdays | 8.00am to 1.00pm |
| Thursdays | 2.00pm to 7.00pm |
| Fridays | 2.00pm to 6.00pm |
| Saturdays | 9.00am to 2.00pm |
If you are unable to attend within these hours, are a new enrolment or urgently need a uniform, please contact Head Office on (08) 6465 1111.
For regular fitting enquiries, please phone the uniform shop during the above opening hours on (08) 6465 1123.
Online orders and order new winter uniform
To make orders online click HERE .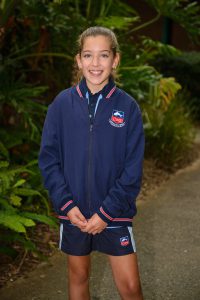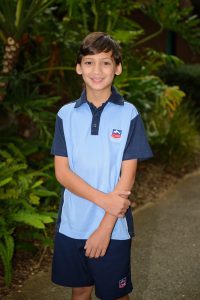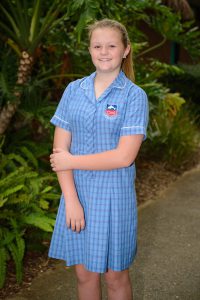 The site is a 15-minute drive from our Carine High School campus and located conveniently around the corner from our current Booklist provider Campion (see map below).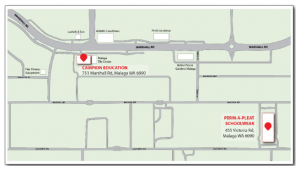 Carine Senior High School Uniform Price List 2023
Canteen
Carine SHS staff and students are very fortunate to have their lunches supplied and canteen run by a local company – Canteen Kings – from 8 am to 3:30 pm, Monday to Friday during the school term and have an extensive menu and caters for all dietary requirements.
Parents and staff can place their order via flexischools.com.au/parents before 8:55 am They can also attach & load credit onto their student SmartRiders with money specifically for canteen purchases (please note this is separate from fare funds). Students can also pay with cash or a bank card at the counter.
JD or Tia (Canteen Kings owners) can be contacted directly at CarineCanteen@gmail.com or (08) 6235 7589.